Join the Moonlight PTA in a night of fun. Moonlight Family Bowling Night Jan. 18th 6:30-8:00 at Mission Bowl. https://www.facebook.com/MissionBowlKC/photos/gm.518407251946811/1928501083876549/?type=3
Co-Hosts, Calvin Schoendaller, Taylor Warner, and Ben Boothe visit with Hugo Guzman, Lead Custodian at Trail Ridge Middle School, about the important role classified staff play in our student's education, snow removal, and his journey to become an American citizen. @trmshuskiesCheck it out here: https://soundcloud.com/user-50...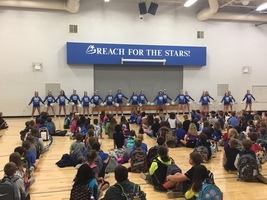 HS Cheerleaders Visit MLE for "Fight Song Friday". Every Friday, Moonlight Elementary students celebrate Fight Song Friday. Students dress in Blazer blue and sing the high school fight song. We have had many of the high school teams visit to help us celebrate our pride in being part of the USD 231 family. We are teaching our MLE students that it is important to cel...