2019 Summer Extravaganza Enrollment Open! USD 231 Summer Extravaganza enrollment is now open! Each summer, many USD 231 students take advantage of the opportunity to enrich their lives through Summer Programming, and this summer is no different. Once again, fun and engaging classes will be offered during the summer months for student enjoyment. The...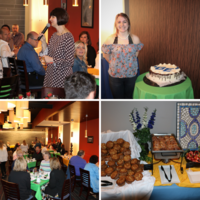 On Wednesday, April 11, 2019, the Culinary Arts students, led by Chef Anne Cort, hosted the annual GEHS Local Scholarship Breakfast. Students arrived as early as 7:00 a.m. to prepare a breakfast consisting of egg casserole, bacon, sausage, muffins, fruit, crepes, and cake. The breakfast is held to honor donors of scholarships. 120 seniors submitted 950...
Katey Foley, French Teacher at Gardner Edgerton High School, has been recognized by the Kansas State Department of Education as an outstanding first year teacher. Dr. Randy Watson, Commissioner of Education, called to congratulate Katey on January 8, 2019. The Horizon Award is reserved for those teachers who have successfully completed their first year of...