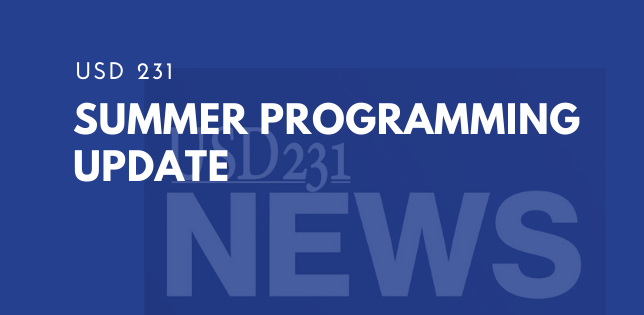 Summer Programming Update
media
Thursday, May 14, 2020
Gardner Edgerton Parents,

We continue to closely monitor the COVID-19 pandemic and its impact on current and future programming and events, including summer programs. We are writing to provide an update on the status of summer programming for 2020.

In light of updated guidance from Kansas Governor Laura Kelly and Johnson County officials, and with thoughtful consideration about the health and safety of our students and staff, all Johnson County schools will remain closed for the month of June. This means that all in-person activities, events, camps, and summer programming scheduled for June will not take place or may be provided in a virtual format, including:


In-person summer activities such as Gardner Edgerton Youth and Community Programs, enrichment, and other in-person programs.
Athletics, weights, activity or music camps that would have taken place at a school building or property.
All facility rental for the month of June will be canceled as well.
Driver's Education will provide more information in the future regarding a virtual format.
JCPRD will resume childcare at selected sites. JCPRD will share information related to childcare opening to families in need of those services. Child Care is regulated by the Governor's Order.
Decisions made about in-person activities during the month of July will be shared at a later date.
Students participating in high school credit recovery courses will be able to continue the courses virtually with further information to follow for enrollment, but any in-person activities or classes will be canceled. Extended School Year (ESY) Early Childhood through 21 will be held virtually. More information will be communicated in the near future to the families of students who qualify for ESY special education services as outlined in their IEP. Meal pickup services will continue in June.

As this is an evolving process, as soon as we have finalized details on future items, it will be communicated with our staff and families.Understand that information and practices are subject to change.

Thank you for your patience, understanding and flexibility during this unprecedented time in our community. Please stay safe and healthy.