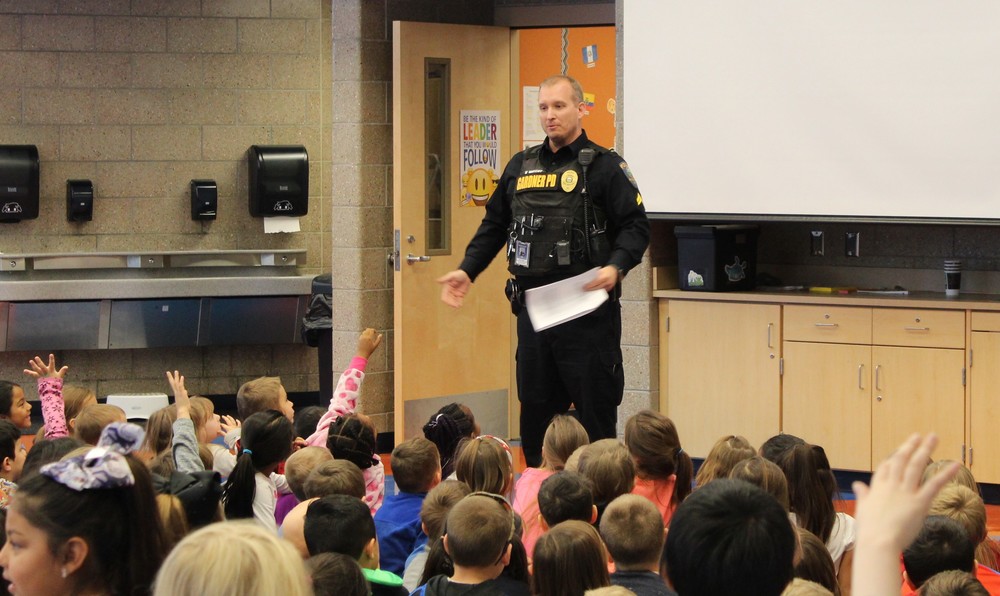 ​USD 231, City of Gardner and Gardner PD Team-Up to Educate Primary Students
media
Friday, November 15, 2019
USD 231, City of Gardner and Gardner PD Team-Up to Educate Primary Students
On Tuesday, November 12, 2019 employees of the City of Gardner and the Gardner Police Department came to Grand Star Elementary to present a program on gun safety and awareness for Kindergarten through Second Grade students.
The Eddie Eagle GunSafe® program is a gun accident prevention program that seeks to help parents, law enforcement, community groups and educators navigate a topic paramount to our children's safety. The program was developed by a task force made up of educators, school administrators, curriculum specialists, urban housing safety officials, clinical psychologists, law enforcement officials and National Rifle Association firearm safety experts.
The students watched an animated video that presented a chant and actions for the steps to take if they encounter a gun. The students then demonstrated the steps for their teachers (with enthusiasm), which brought Eddie Eagle himself flying down to Grand Star to see what was going on! The students enjoyed showing Eddie what they had learned and were rewarded with "challenge" coins with the step/actions to take, along with books, certificates and stickers. Eddie provided a "Parents' Guide To Gun Safety" as well!
The program was brought forward by a conversation between Jennifer Jordan-Spence, City of Gardner Grant Coordinator and a teacher at Grand Star. The teacher had mentioned having used the program in the past, and through this conversation, learned that this past Spring, the NRA Foundation awarded the Gardner Police Department a grant to fund the Eddie Eagle GunSafe® program.
Eddie (Sgt. Lynn Atchison) was accompanied by, Cpl. Nick Wright and Jen Jordan-Spence.