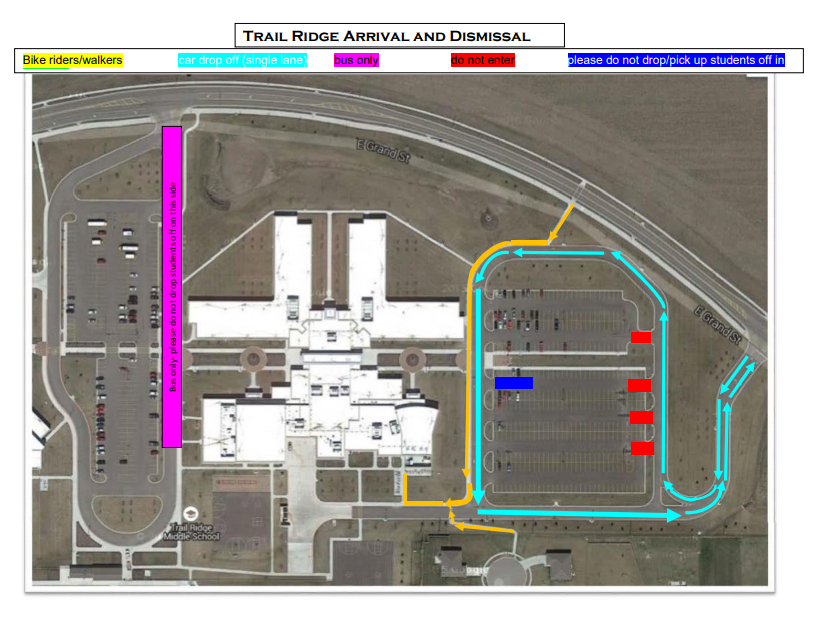 Arrival/Departure
Trail Ridge Middle
Thursday, August 01, 2019
Arrival/departure procedures for TRMS and traffic flow chart
Building flowchart and processes to ensure the safe arrival/departure for our students.
Arrival:
Be patient. Safety is our first goal. When it rains, you will experience delays.

Be on time. Students are released to their classrooms at 8am. Our tardy bell rings at 8:10 and announcements start. Feel free to visit:https://www.youtube.com/channel/UCu4DaPlqZ6J_EgeqSE9sF1w/live and view our morning announcements live.

Students should arrive between 7:45 and 8. We have staff on site to allow students in the building when we have inclement weather.

Breakfast is served from 7:45-7:55.

Parents are required to have ID, wait for access to the office and get a visitors pass when entering the building.

The office opens at 7:30. It is best to schedule appointments, and/or visit the office after 8:30.

See traffic flow chart for specific instructions related to drop off instructions.

Drop off only occurs on our drive. Please drop off on the passenger side of the car.
--Do not drop off in the neighborhood, parking lot, or Grand Street.
Many students walk and ride bikes. Please walk the bikes once you are on our school sidewalks. Designated areas can be found on the traffic flow chart.

Buses only on the Grand Star side of our building. We will have a few students walking and/or riding bikes on this side of the building….. use the sidewalks.
Departure:
We dismiss at 3:15. You may utilize our parking lot to wait. Utilize the crosswalk for safety. Again, if it rains, you will experience delays.

Be on time. The traffic flow is the same in the am and pm. Our parking lot will clear by 3:30. Do not use the bus side of the building until after 3:45 for athletic events.

Visitors always go to the office to get a visitors pass. Students also need to go through the office to re-enter the building.
We do have students that often stay after school. That is great! Please be aware of your child's schedule to save your time. Our biggest concern after school has to do with students not communicating with parents their plans for after school.

Have your child self-advocate if they do not know how to get home or what they are supposed to do. The office will be open daily until 4:15 to provide assistance.