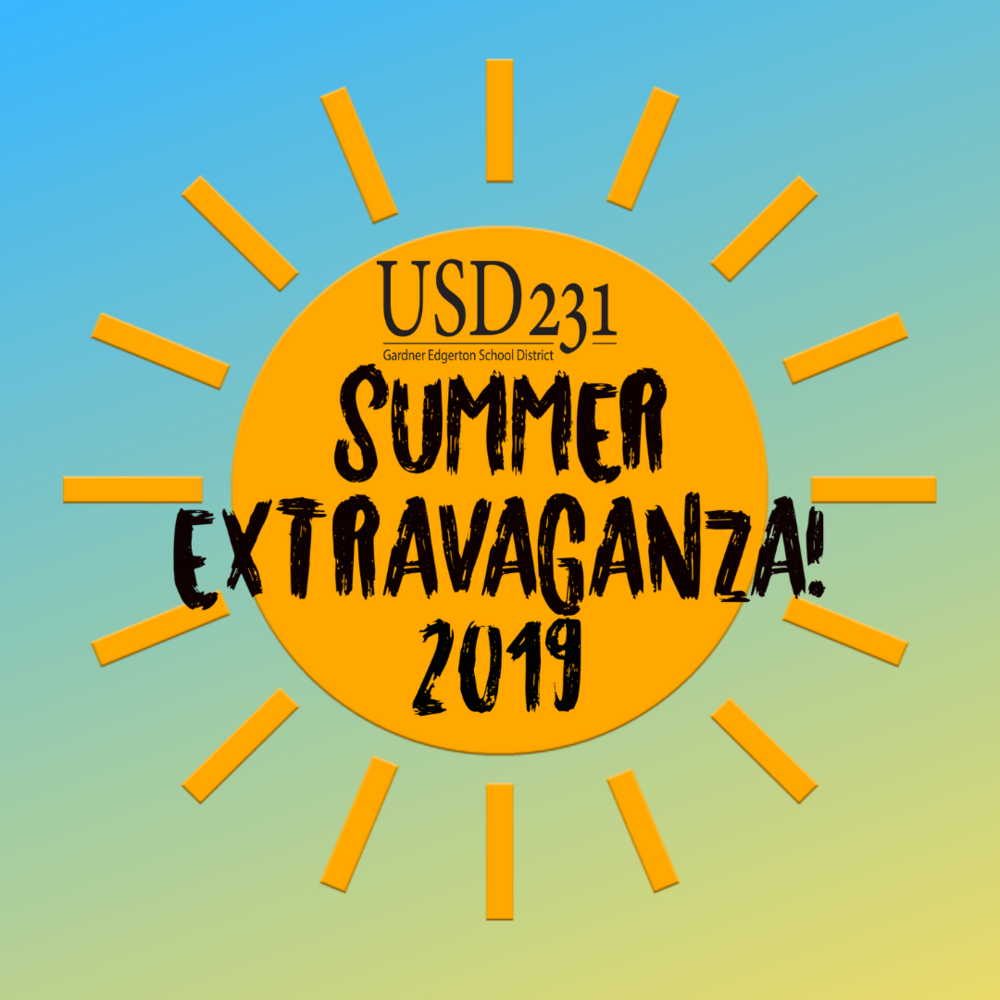 GEYCP Streamlines USD 231 Summer Programming for Local Families
media
Monday, May 06, 2019
Last summer Gardner Edgerton Youth and Community Programs (GEYCP) worked with GEHS Baseball, Soccer, and Band to provide online registration for their summer camps. GEYCP also provided registrations for the District's Summer Enrichment Programming along with other GEYCP specific programming. Feedback from last summer's registration process was very positive which prompted GEYCP and USD 231 to provide registration for all USD 231 summer programming this year including, athletic camps, advance technology classes in the District's new ATC Building, summer enrichment, youth theater camp and other GEYCP programming.
The "Summer Extravaganza" online catalog developed by GEYCP Supervisor, Ryan Colston is an online digital catalog providing local parents and guardians a singular location to find all of USD 231's summer programming. Each program offering is listed with a brief description and a clickable link which takes the viewer directly to a registration page. Parents or guardians can register their child and even pay online if they would like. Registrations can also be dropped off at the district office or simply mailed to GEYCP at the district's board office. GEYCP Coordinator, John Duncanson hopes by providing a one stop shop for families to see and pay for the summer offerings, not only will families find enrollment less stressful but also raise participation in the summer camps and enrichment activities. "Believe me, I know how hectic schedules are in today's world and being able to see all of the camps and enrichment programming our district has to offer in one location is extremely helpful," said Duncanson who has three school age boys who are involved in a variety of activities.
GEYCP is also excited to offer a summer theater camp, which will be performing 101 Dalmatians at the conclusion of the camp on June 7. Duncanson stated, "GEYCP has been working toward offering a performing arts program for some time and this summer it is happening. We have so many talented people who live in Gardner and Edgerton who want to get involved with our youth. I love that we can work with them to do more activities like theater." GEYCP is also partnering with The Barefoot Builder, Bricks for Kidz and Young Rembrandts to offer additional enrichment activities this summer. All USD 231 summer activities can be found in the Summer Extravaganza catalog which has been shared on social media, in parent newsletters, parent and guardian emails, and posted at usd231.com.